Everyone is invited! This Friday evening (11/17) come out to support Stapleton School's One-Act Play Production! This is their annual production for the public, and offer a soup and dessert meal prior as a fundraiser, in preparation for their District competition. This year they are doing a parody/ comedy titled "Went with the Wind." This skit is full of chaos and laughter, you won't be disappointed!
Events for the week of Nov 13: Monday, Nov 13: --NO SCHOOL: Teacher In-Service --FFA at District LDE Contest at Wallace, vans leave at 6:45 am --Start of Winter Sports Practice --JH WR at North Platte St Pat Invitational--4:00 pm --School Board Meeting in Library--7:00 pm Tuesday, Nov 14: --One Acts at MNAC Contest in Thedford Wednesday, Nov 15: --ASVAB Testing--8:30 am Friday, Nov 17: --NE Youth Beef Leadership Symposium at Lincoln--van leaves at 7:00 am --JH WR at Mullen--11:00 am --One Act Soup Supper and Performance GO MAVERICKS!!!
Jr Hi Wrestlers Continue to Roll! We went to the South Loup meet at Arnold last Thur. The team continued to do well. We won 11 Matches, and only lost 5. We pinned 10 of our opponents, and only got pinned twice. That's a good day! There were 12 area teams there including Cozad, Gothenburg and Hershey. All 8 of our wrestlers placed at this meet. They were in 4-man brackets, and all placed 3rd or better! Their places were: 1st - Tucker Myer, Pierce Phelps and Cotter Johnston 2nd - Adi Brewer, Hunter Schaeffer, J P Zuniga and Jaxon Mcentee 3rd - Lilly Sheets We left 2 at home because of grades and an injury. Hopefully we will have our full team next week. We are excited as to how they are doing at this point in our short season. We have 3 meets left: St. Pats, Mullen and Perkins Co. Thanks for your support, and hope to see you there!
PreK Fall Feast The preschool had a Fall Dinner on November 10th. There were 29 people in attendance. It was delicious!
Congrats to Play Production for their performance at Cozad Festival One-Acts! The following awards were earned: 2nd place in Tech Award! Outstanding Acting Awards: Tessa Hansen Mariah Duran Cayson Johnston Kelsey Amos Cameron Berliner
The 4th graders did a lab to simulate how animals "forage" in nature and the many obstacles they may encounter.
FFA: District LDE's Monday Nov 13th Vans will leave the school at 6:45am, stopping at the tanks (north of North Platte) at 7:05am. If students are wanting to be picked up at the tanks they need to communicate that with Miss Nichols prior to Monday morning. We will return to the school following awards in Wallace, if students will be picked up from Wallace by a parent Miss Nichols needs to have a note from their parent before the end of school Friday (tomorrow). All students participating have received an email with details about what they should be wearing and what they need to bring with them for contest (money for food, contest supplies, ect). If you have any questions or concerns please reach out to Miss Nichols at your earliest convenience.
NO SCHOOL: Reminder that Monday, Nov 13 is a staff inservice day and no school for students. Thank you.
SPS is taking applications for a full-time afternoon/evening custodian, and substitute bus drivers. A highly competitive compensation package is available to candidates with a proven employment record. Click for more information:
https://www.stapletonschools.org/page/job-opportunities
CLARIFICATION: The meeting scheduled with Mr. Johnson on Thursday November 9 is open to all members of both communities regardless of student's grade level or participation: We welcome feedback about our activities programs from all members - regardless of affiliation. Thank you for those of you who have already reached out!
Reading The elementary students are reading up a storm. Mrs. Isom and Mr. Halstead teamed up to get the students reading. The students who get the most AR points each month in grades K-1, 2-3, and 4-6 get to be principal for the day. The first winners were: K-1 Rorie Connell 2-3 MaKadyn Knievel 4-6 Paige Morash Rorie was principal last Friday and did a fantastic job. MaKadyn will be principal this Friday and Paige will be principal next Friday. We have started keeping track for November so we will have 3 new principals in December.
Jr. Hi Wrestlers Look Good at the Hershey Meet We had a very good day. We won 16 matches, and only lost 11. All 9 of our wrestlers placed at this meet. That's a good day! Once again we saw 13 good teams like: Chase Co., Mullen, St. Pats and Garden Co. We are pleased as to how the team is doing this early in the year. Those who placed were: 1st - Cotter Johnston 2nd - Adi Brewer, J P Zuniga, Tucker Myer, Jaxon Mcentee, and Zeydin Palmer 3rd - Hunter Schaeffer, Lilly Sheets and Peirce Phelps This is our busy stretch, we go to Arnold this Thursday, then St. Pats and Mullen next week. We are hopeful and confident that the crew will continue to do well through our busy stretch. Thank you for your support and cheering us on!! Coaches Halstead, Chloe and Mariah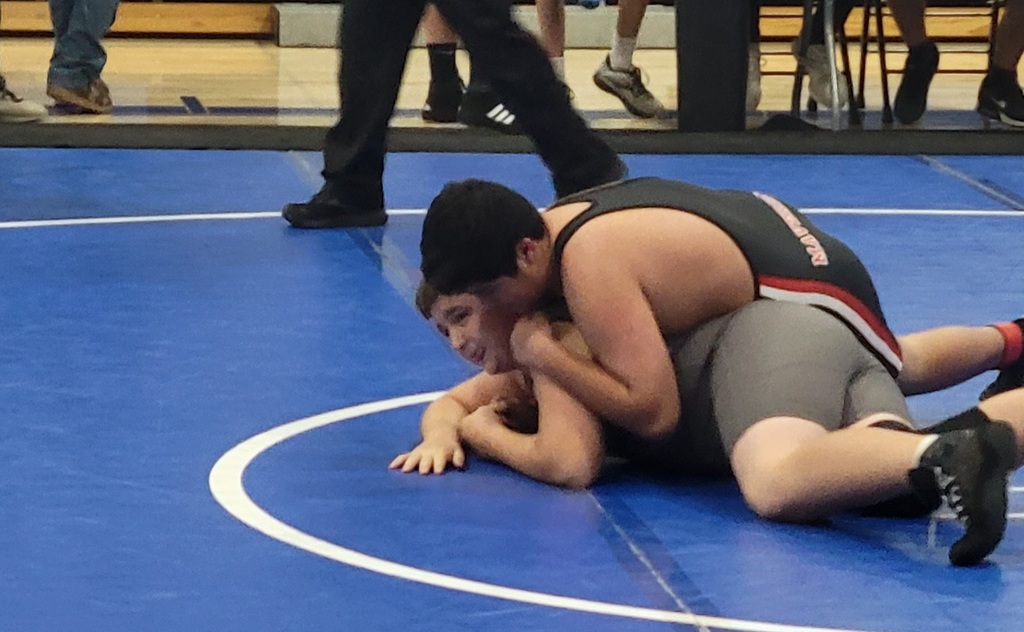 WINTER SPORTS BEGIN: Winter sport seasons begin this Monday, Nov 13th - We will have HS athletes participate in Girls/Boys Basketball and Girls/Boys Wrestling. JH Wrestling is currently underway. JH Girls basketball will begin practice starting Tuesday, Nov 14th. The majority of JH Boys Basketball will begin Monday Nov 27th at the conclusion of JH Wrestling. GO MAVS!
Had a chance to watch Juniors Kyle Kramer, Cayson Johnston, and Cameron Berliner practice their "backward position" calf birthing demonstration for an upcoming FFA event this morning. Certainly an experience! Keep up the good work fellas and Miss Nichols!
Mrs. Joedeman and a handful of seniors went on a college visit to UNK today. They toured the campus, and heard from academic advisors in various departments including Physical Therapy, Nursing, Physical Education, Agribusiness, and Criminal Justice.
REMINDER: Post-Fall sports/activities parents meeting Thursday Nov 9 at 6pm with Mr. Johnson at Stapleton Public Schools Library. If you can't make it and want to provide input please feel free to email
jeremiah.johnson@stapletonschools.org
or call the office at 308-636-2252. See you Thursday Night!
Veteran's Day Program--Fri, Nov 10 at 10:00 am in Gym The Veteran's Day Program will be this Friday, Nov 10th starting at 10:00 am in the main gym. The Elementary Music classes & Elementary Band, Junior High Choir, and High School Band will perform various patriotic selections. Elizabeth Fetty & Ethan Weems will talk about their experiences at Boys' & Girls' State this summer. The guest speaker will be District 5 American Legion Commander Scott Bell, and VFW Auxiliary will present the Quilt of Valor. The program is open to the public. We hope to see you here as we honor our Veterans.
Students that made the Honor Roll for the first quarter were rewarded with a party in the park this afternoon. The students were divided into two teams and a competitive game of Capture the Flag commenced. Strategy, wit, skill, and finesse were all on full display as these kids battled for control of the kingdom... a.k.a. park. Alliances were forged... and broken. Challenges were issued. Pride and respect were on the line. Following the game, everyone enjoyed delicious refreshments, graciously provided by the Booster Club. This event was organized by the National Honor Society.
Reminder to our Maverick's Community: Our first basketball games are less than a month away (Dec 1), and there is a new rule change that we want everyone to be aware of. This rule change comes from NFHS, and may take some getting used to. Please be patient with officials and scoreboard operators. LET'S GO MAVERICKS!!!